by Roman Stolyar
for Jazz.Ru Magazine
(see original Russian text)
There was an early March morning of the year 2015 when I got a message from Swiss company Swatch – and this message started the story. By the message, my staying at Swatch art residency was confirmed; it was said that they were looking forward to my appearance in Shanghai in April 2016. The period of staying was three months; the place of staying was luxurious Swatch Art Peace Hotel resided in The Bund, the fanciest area of Shanghai. The purpose of my staying was, as I applied for, to create an improvising orchestra uniting musicians from various music spheres. Series of workshops were planned for developing common music language and establishing deep liaison between orchestra participants allowing them to create music in real time without any pre-agreement, score or conducting.
Having one year prior to the visit seemed quite enough; nevertheless, I decided to act immediately. Firstly, I tried to use official channels to establish contacts with Shanghai music institutions, but it didn't work – neither Shanghai Conservatory of Music, nor local jazz school responded to my requests. Luckily, while searching for contacts in Internet, I suddenly found an essay on music scene in China written by American pianist and musicologist Tobin Chodos. It was clear that he knew the subject much better than me, so I decided to ask his help – and he replied to my email in two hours with a list of important contacts in Shanghai, though we never met. Since that moment the real preparation of my trip got started. Through exchanging emails with Shanghainese musicians, I found two important things. First was that my project caused their interest, so there was obviously a chance to gather people for that. Second was that my project fitted the interests of JZ School, the most active jazz school in Shanghai; they were going to open a new campus and considered my project as a promotional tool and an addition to the JZ School regular educational program. That's why they agreed to allow our orchestra gatherings in nice and cozy concert hall resided in the new JZ School building.
Finally, a year after, I arrived in Shanghai. It was the 2nd of April, and Waitan riverbank was crowded as always despite of goring outside. Shanghai is a weird mixture of East and West: the pedestrian area of East Nanjing Road seems quite similar to Times Square, but make few dozens steps aside – and you are in calm Chinese province with its small shops and the omnipresent smell of street food. Almost any kind of music can be found here: you can find hard rock and ethnic music in Mao Live House, rhythm'n'blues and reggae in Cotton Club, dance parties in 1920s style in Le Petite Fontaine, hip hop and electronic music in Shelter… And, of course, there are many venues for jazz music here: Heyday, The Pearl, Wooden Box, and – the most known – JZ Club which is now in the process of moving .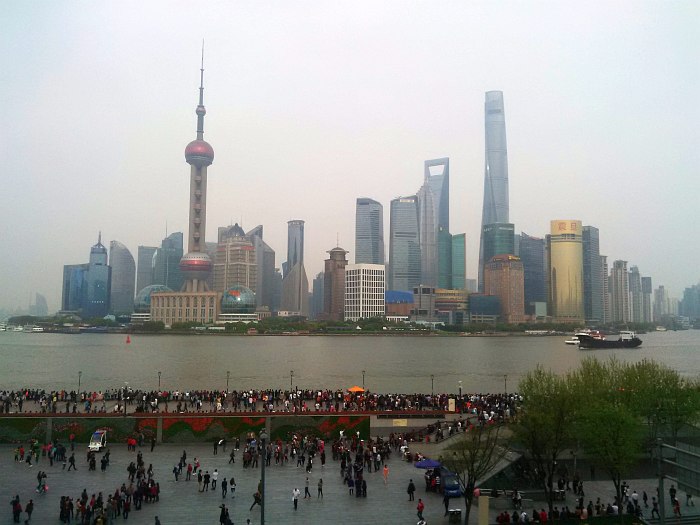 However, there is no single venue for free improv in Shanghai, and examples of freely improvised music are very few. Some musicians, though, tried to play this kind of music, but it didn't go well: it seems there is no place for experiments in the commercially oriented atmosphere of this city. Besides, all musicians are busy as hell here – they are not as many as needed for clubs, bars and outdoor shows in the city populated by 24 million people. Musicians from all over the world work here: I met Spanish, Germans, Israeli, Australians, Russians, Ukrainians playing jazz here (and jazz is not the only kind of music they can play, otherwise it wouldn't be possible to survive). And Americans, too. Alec Haavik, one of the most well-known jazz musicians in Shanghai (and not only because of his height and exotic look – he likes wearing bright and extravagant costumes), is one of them. Moved in Shanghai eleven years ago, he became a true engine of local jazz scene. His activity is beyond any borders: he plays in most of local jazz groups, teaches jazz saxophone and leads his own big band performing, among others, original pieces composed and arranged by him.
READ MORE: the complete story of the JZ Improvising Orchestra in Shanghai! 

Alec was the first person in Shanghai who expressed sincere interest to my project; he immediately became the co-organizer of it, taking responsibility for negotiations with JZ School administration and inviting local musicians. His interest to the project, however, was understandable: he studied free improvisation with Anthony Braxton and was one of few musicians who tried to play free jazz and free improv in Shanghai. He created free improv trio Blue Koi together with Italian pianist Gabriele Meirano (one of musicians of NY-based avantgarde recording label named 577) and Chinese drummer Feng Hao; but, pity, this project existed just three years and ceased to be because of the low interest in the local audience. Mai Mai, another powerful experimental musician from Shanghai, whose manner of playing electric guitar is close to Derek Bailey and Keith Row, performs rarely here, and the reason is the same – lack of audience. Macedonian accordionist and composer Yordan Kostov seems more successful: his music, being not so radical, combines composed stuff with strong Balkan folk intonations and elements of collective improvisation.
All mentioned musicians become a part of my project – and not only they. Many of potential members of the orchestra were found through co-playing – and I couldn't miss any opportunity to perform in different venues in Shanghai, not only because that would be natural for any concert musician, but, mainly, for meeting as many musicians as I could to spread the idea of my project. And it worked out well: attending weekly night jams in JZ Club and performing as a member of Yordan Kostov's project Paper Killer, I found many more musicians than I could imagine. Many of them expressed their will to be a part of the project; however, attending orchestra gatherings regularly was not an easy thing for most of them, as they were involved in too many gigs. For me there was no other choice but to accept the situation when we had just two or three people coming for our gatherings, with no guarantee that they would show up again next week. Some people whom we started with disappeared in a while, having no force to resist the everyday routine. That was a bit disappointing, but I realized that starting new initiative is always not an easy thing and preferred to keep patient. After some weeks it became better: every meeting we had more and more musicians involved. Same time I started getting messages, mostly from people I never met before, where they asked me if they were allowed to join the project. In a while JZ School administration began advertising the orchestra gatherings, and even more musicians came. This all looked promising.
From the first gathering it was totally clear that most of participants had no practice of playing improvisation. That's why we started from very basic exercises, directed mostly to working with different parameters – pitch, loudness, density, sound lengths, timbre – and improvising within simple form cliches, mostly using the arch form. We also were working on improvising melodically, on listening to each other in group improvisation, and on acting according to what was happening around. We often focused on improvising in small groups: duos and trios; in most cases, these small groups brought together musicians from different music spheres. Besides, newcomers were often playing together with experienced improvisers, which was mutually fruitful: newcomers got an opportunity to learn from experienced colleagues, while experienced improvisers should behave as equal partners and not to suppress beginners' initiatives. Some exercises required to play in challenging conditions – for example, playing within selected scale (I preferred to suggest scales that are not often in use) to avoid personal cliches and enrich musicians' vocabularies. "Be in search of new things when you improvise," was the motto of our gatherings. Step by step, the chemistry between orchestra participants was growing stronger and stronger, and in a month or so we started sounding more or less as a real orchestra. Since that time we started practicing in performing several group improvisations in a row; every group improvisation should sound differently from the rest of them. The more musicians in a group was involved, the more complex was to create contrasts between pieces; but we were progressing quite well and, finally, reached necessary readiness to improvise collectively on public.
On June 23, 2016, we had our first performance at the venue called On Stage resided in Red Town, the artistic district of Shanghai. We named our group JZ Improvising Orchestra to credit JZ School that helped us a lot. Till the last moment we didn't know how many people would be performing – but that was made on purpose, to thicken the plot. Finally, we had twelve participants representing different countries and music spheres: thus, German viola and violin player Stephan Brandel and French flutist Beatrice Socher came from classical world, Chinese accordionist Shengji Zhuo and French singer Helene Meunier – from traditional French music world, Alec Haavik and Gabriele Meirano represented new jazz, Mai Mai came from the realm of noise, etc. But one couldn't find where did every orchestra participant come from during the performance: the chemistry was too strong, and all musicians who attended our workshops made huge steps out of their cliches; most of them, being known to local audience, sounded totally fresh. Who, for example, could expect from Helene Meunier, known as a vocalist of local group Rendezvous, expressive solos in radical, Maggie Nichols-like manner? Who could expect rattles and groans coming from Shenji Zhuo's accordion and "weird" sounds having nothing in common with regular Stefan Brandel's manner of playing viola? But none from the audience could be caught by the performance, if only techniques – regardless of a degree of inventiveness – were demonstrated. All improvisations played that evening – from trios and quartets of the first set to an "Improvised Symphony" in three movements, in which all twelve musicians were involved – had different creative faces, contrasting each other, with a sufficient degree of deepness caused by strong liaison between orchestra players.
There's no need to describe the audience's reaction on the performance in details; ovation at the concert's final, and enthusiastic responses after it ended, proved for me again that "complex" improvised music can be understood and well perceived by "unprepared" listeners, if musicians do their job with sincerity and openness. But what happened that evening was much more than just a successful performance – that was a real world premiere of the first Chinese large collective playing freely improvised music. And there is a solid reason to expect more – at least the fact that two new musicians came to our gathering after that concert to join the project tells that the JZ Improvising Orchestra, no doubt, has a future.
VIDEO: JZ Improvising Orchestra, 23.06.2016: The Improv Symphony part II

About the author: the native of Novosibirsk, Russia, pianist Roman Stolyar was educated as both jazz pianist and modern classical composer at the Novosibirsk Conservatory. He taught jazz history at the Novosibirsk Music College and contemporary improvisation at the California Institute of the Arts, wrote the first-ever instructional book on free improvisation in Russian (now also published in English,) and performed all over Russia as well as in Europe, Japan, PR China, and the U.S., including ensembles with Alexey Kruglov, Dominic Duval, William Parker, Vinny Golia, Stephen Nachmanovitch, Marco Eneidi, Weasel Walter, Susan Allen, Tanya Kalmanovitch, Oliver Lake, Assif Tsahar, Glen Hall, Thomas Buckner, Martin Kuchen, Ed Sarath, Jin Hi Kim and many others.